Louise Vind Nielsen (b. 1984) is a Danish conceptual sound-, performance and visual artist working with, in between and against humans and machines, sound and image, poetry and activism.

Download CV (Danish)
Download CV (English)
Download portfolio (English)
Biography (Danish)
Press (Danish)

Contact: hej@louisevindnielsen.net
Follow me on: facebook or bandcamp

Public domain videos and pictures can be downloaded and shared with others as long as the authorship is credited and there is a link back to the website of the author. These works cannot be altered in any way or used for commercial purpose nor cannot be displayed or exhibited without the consent of the artist.
© Louise Vind Nielsen


Ongoing
Radikal Unsichtbar (Curatorial activities on sound and listening)
Umuligt Instrument (Sound performance)

2019
Mælkevejen (Milky way) (Video performance)
I mit hoved, så er den mørkerød (Video and sound work)
Human Metronome @SPOR (Sound performance)
RAW[0.4,y,0.75] Transparencies (Vinyl Release)


2018
I see a lonely tree (Performance)
Human Amplifier (Sound performance)
Human Tape Machine (Tape release)
Human metronoms @ 60 Beats per Minute (Sound performance)
ABE, BANDIT, CIRKUS (Print work)
Ej, pas lige på (Sound performance)
Jeg er os er fisk (I am you are fish) (Essayfilm)

2017
Ottoman Style Tinfoil Hat (Print work)
X-Border_How-To-Step-Across-Borders (Essayfilm)
Tunge Læser Philomela (Tongue Reads Philomela) (Video and sound work)
Ekko and the Robot (Sound performance)

2016
A Little Bird Told Me (Video and sound work)
I am positive you are negative (Essayfilm)
Circular Lecture (Sound performance)
Den Dag Pade Døde (The Day Pade Died) (Sound release)

2015
Radikal Unsichtbar (Curatorial activities on sound and listening)
Ich bin unselbständig (Installation piece)

2014
The Art of Being Many (Video and sound work)
Radiorepetitioner (Workshop)
Sound for "Maria Stuart" (Musical composition and performance)

2013
The Temporary Radio for Fresh Air and a World With Less Walls ( Graduation work: Radio art, activism and performance)

2012
I see a Tree (Video and sound work)
This is porn (Video and sound work)

2011
us (Video and sound work)

2010
Ventilation - Et værk i syv cirkler (Sound installation and graphic work)

2008
Forceret to-deling (Forced division) (Print work)
- - - Mælkevejen (Milky way) - - -

My good friend and room mate recently had her first child. For the whole flat it has lead to an every day life flowing with milk: Bottled milk, coffee with milk, infections in the breasts and high fever, milk pumps and machines for heating up the milk, milk substitute and regurgitated milk. "Milky way" deals with the big question that many young (female) artist are asking themselves: Is it possible to have a child, without having to give up art?

By means of circular breathing and a straw in a glass of milk a constant flow of milky bubbles are being produced. The glass is overflowing and the milk flows over until the glass is almost empty.

The title and the work in referring to the greek myth on how the Milky Way was created. Zeus becomes a father of twins after an affair with Alkmene. Confronted with the ager og Hera after his unfaithfulness towards Hera he names one child Herakles meaning "the joy of Hera". This action doesn't calm her down. In a new attempt to appease Hera Zeus lulls her to sleep and he lets the infant Heracles suckle on his divine wife Hera's milk while she's sleeping. Hera wakes up and pushed the child away away and milk is spurting out in a great arc. This is said to be the story of how the Milky Way came into being.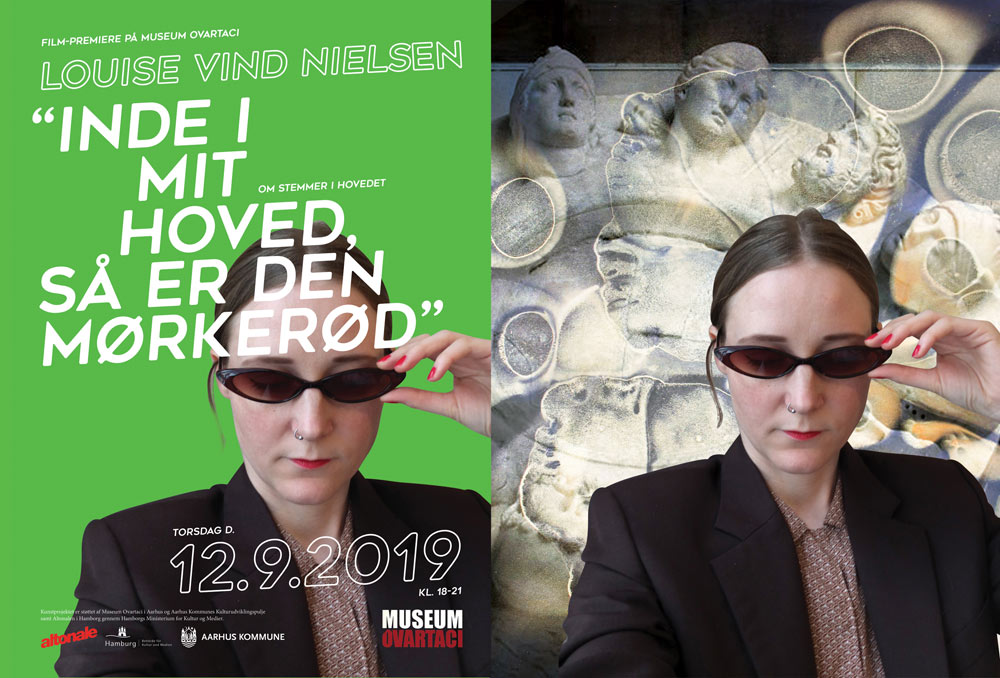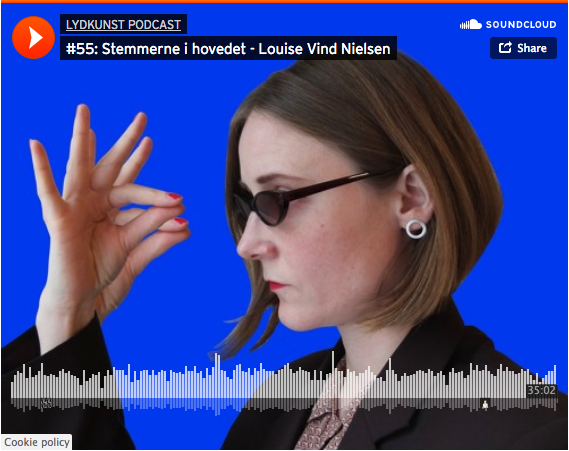 Buy the limited transparent vinyl here: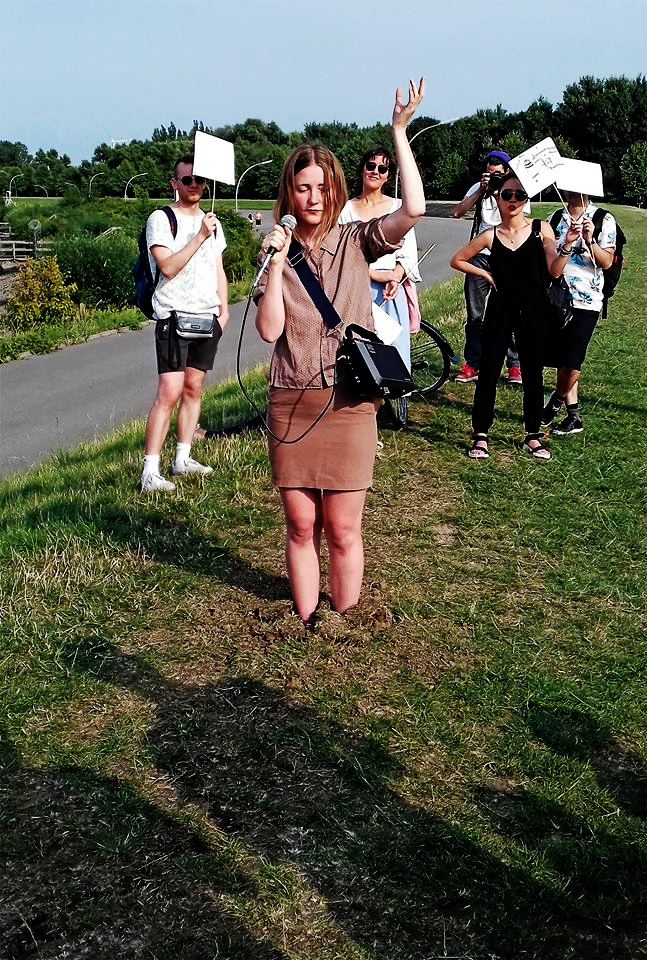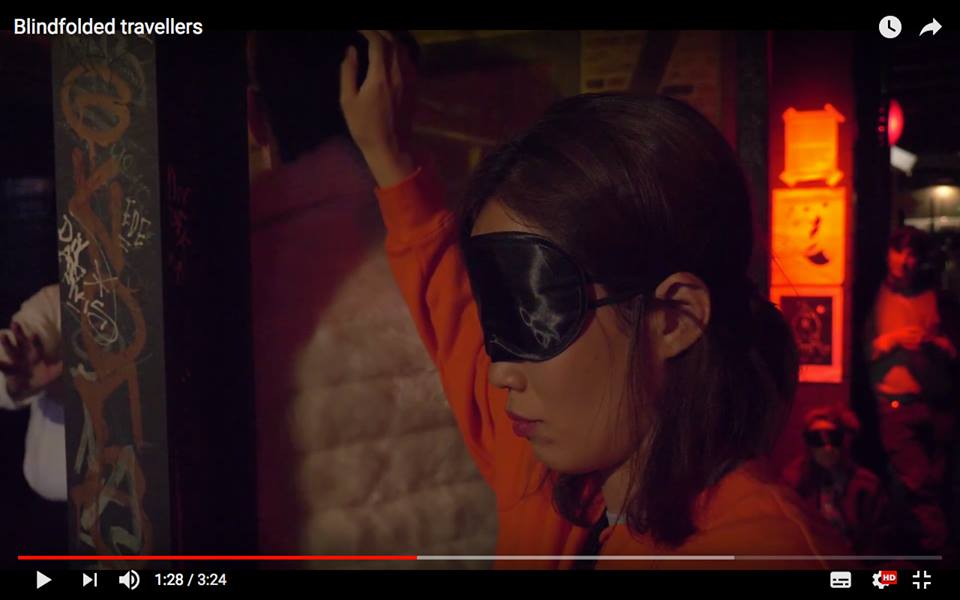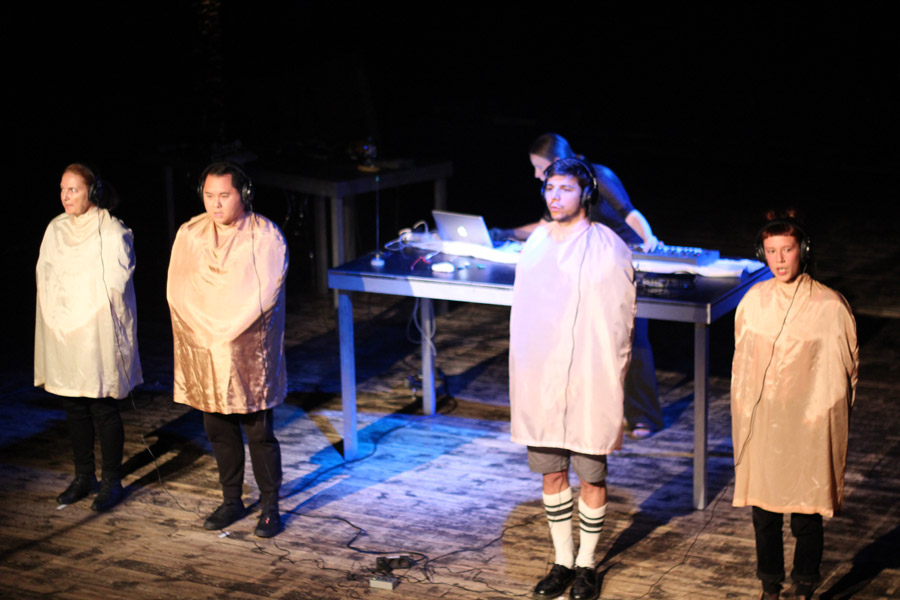 Pic: Norman Neumann / Anachronism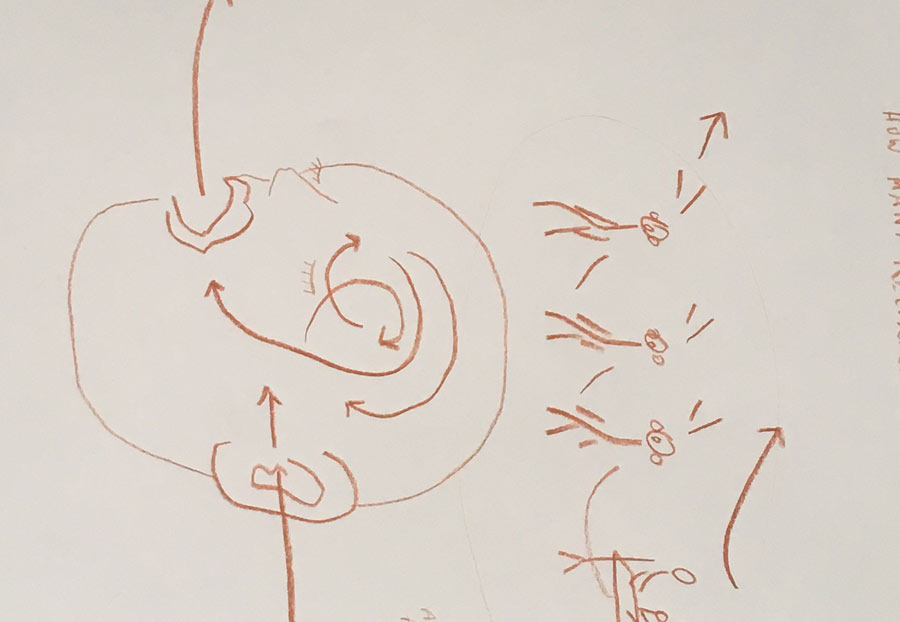 - - - Human amplifier - - -
With her performance format Human Amplifier, the artist Louise Vind Nielsen invites the workshop participants to act as »speakers«. Via headphones, sounds are transmitted to the human amplifiers, who then pass on what they hear to their environment with their voice or with movements. It's about how we hear, perceive, process, and communicate, but also about how collective learning, thinking, and producing arise.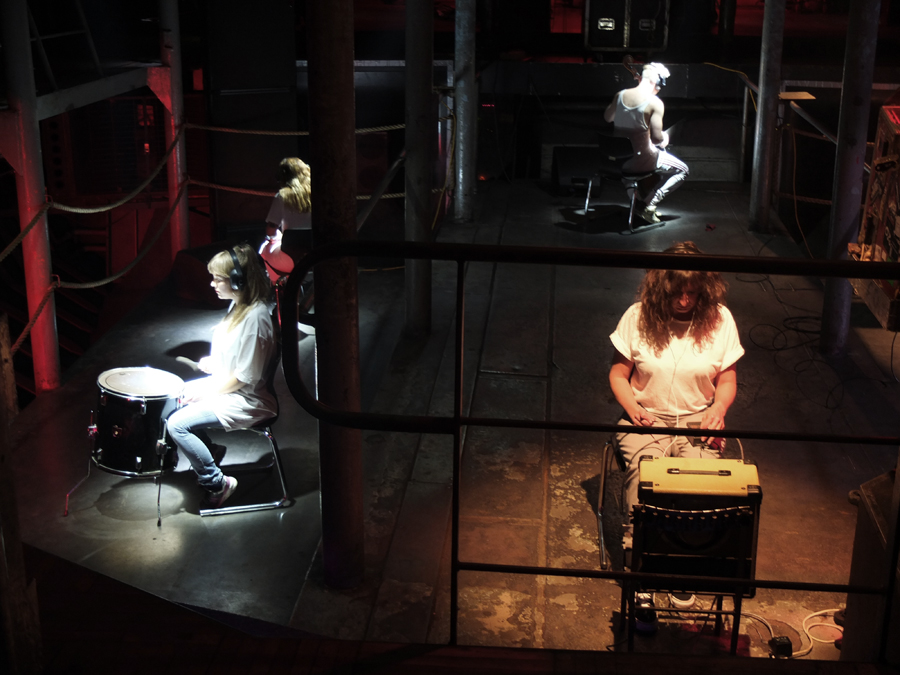 - - - 60 Beats per Minute (Human metronoms) - - -
With her performance 60 Beats per Minute, the artist Louise Vind Nielsen invites the performers and musicians to act as humans »metronoms« playing a given instrument at their own perception of 60 beats per minute. Wearing headphones or ear capsules the performers only hear their own beat and the result is a soundscape of parallel incessant beats moving in and out of synchronicity.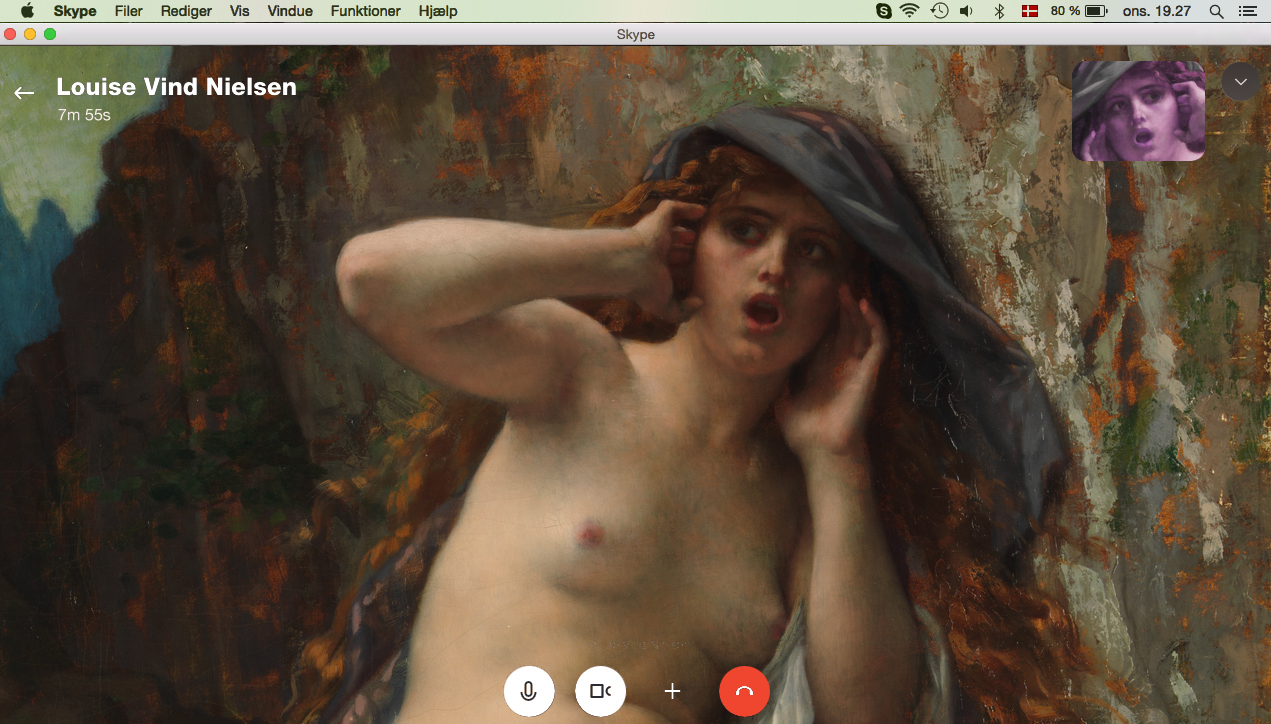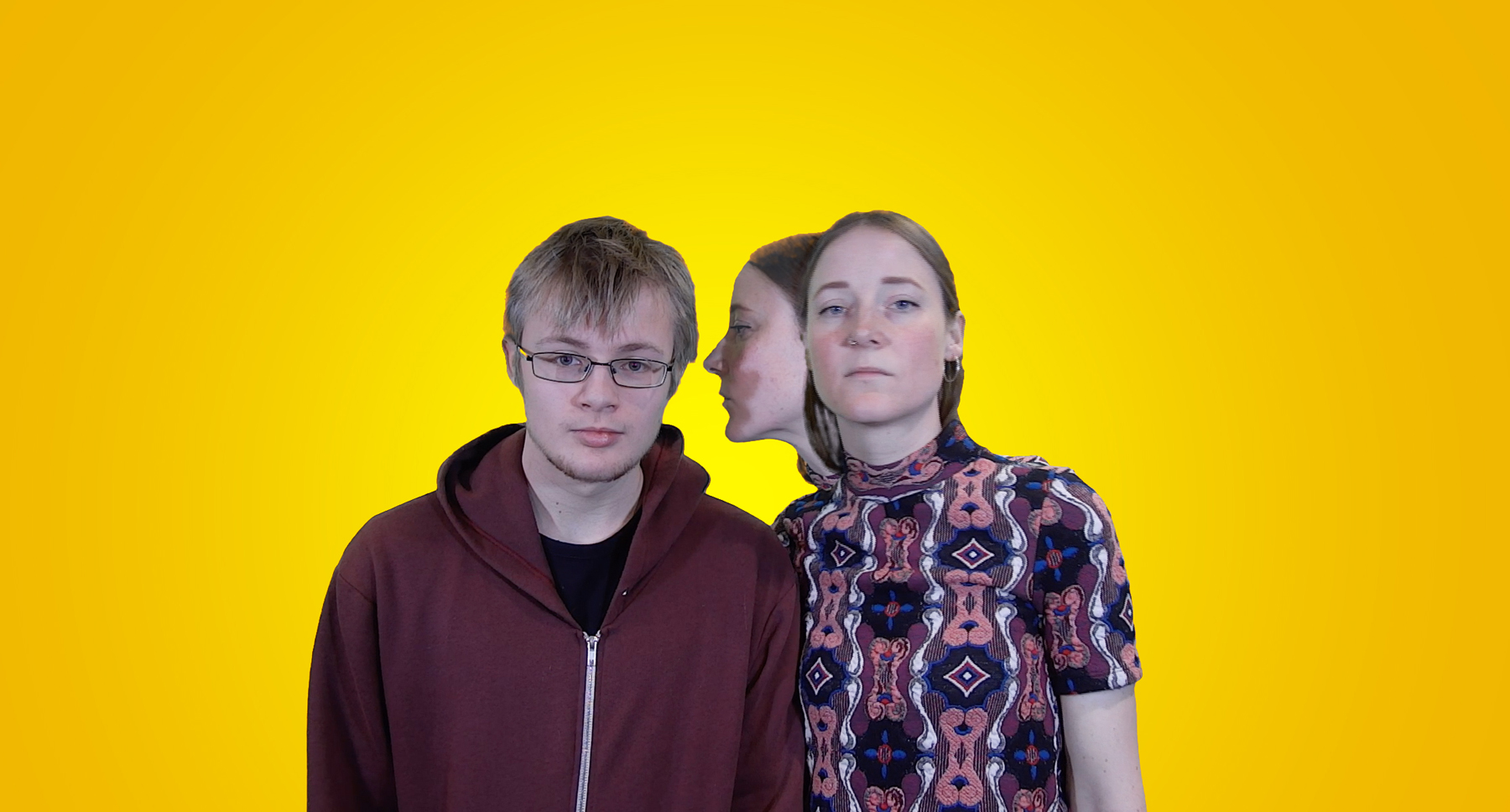 --- Jeg er os er fisk --- (I am you are fish)

A short essay film on identity, not fitting-in, and difficult meetings between people. The film was created as a part of a one-week workshop with young people in Silkeborg (DK) conducted by Louise Vind Nielsen.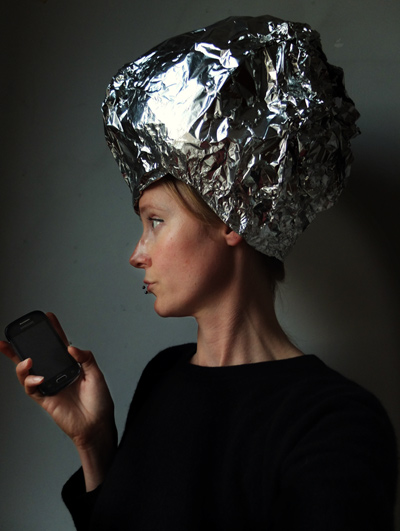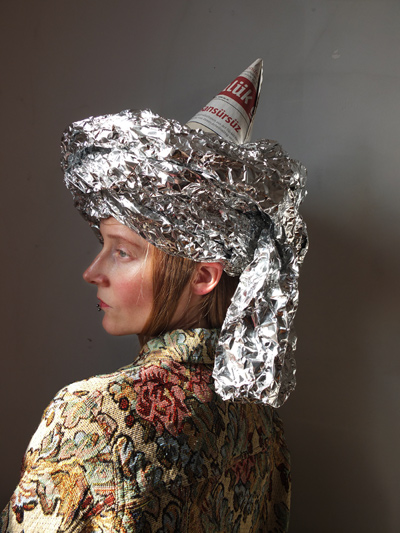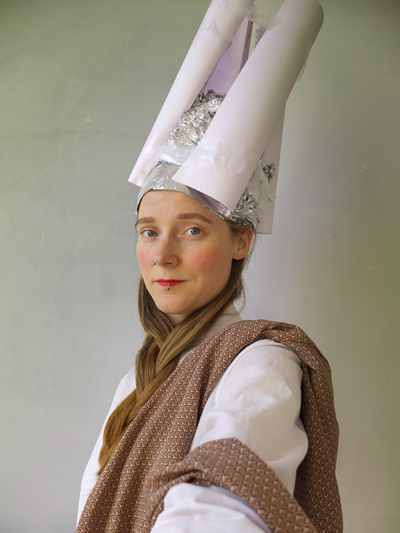 --- Ottoman Style Tinfoil Hat ---
Art is said to be a safe place for starting difficult conversations, but is that still the fact? The photo series "Ottoman Style Tin Foil Hat" is a comment on the mechanisms of (self-)censorship of creatives and intellectuals, by a feminist artist fascinated by Neo-Ottoman science fiction and the dream of an islam-conservative Disneyland.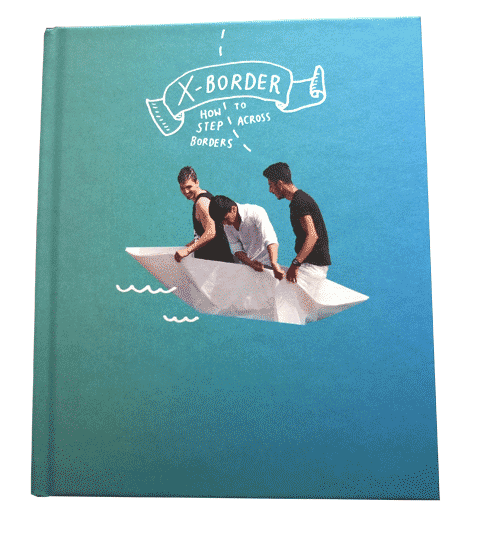 ---- X-Border_How To Step Across Borders ----
An essay film on borders and how to overcome these. The film is conceived as a part of a collaboration between young people in Flensburg, who are seeking asylum and Hamburg-based artist Louise Vind Nielsen.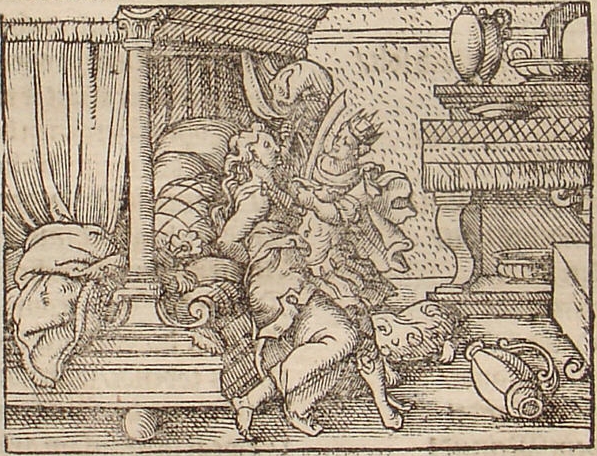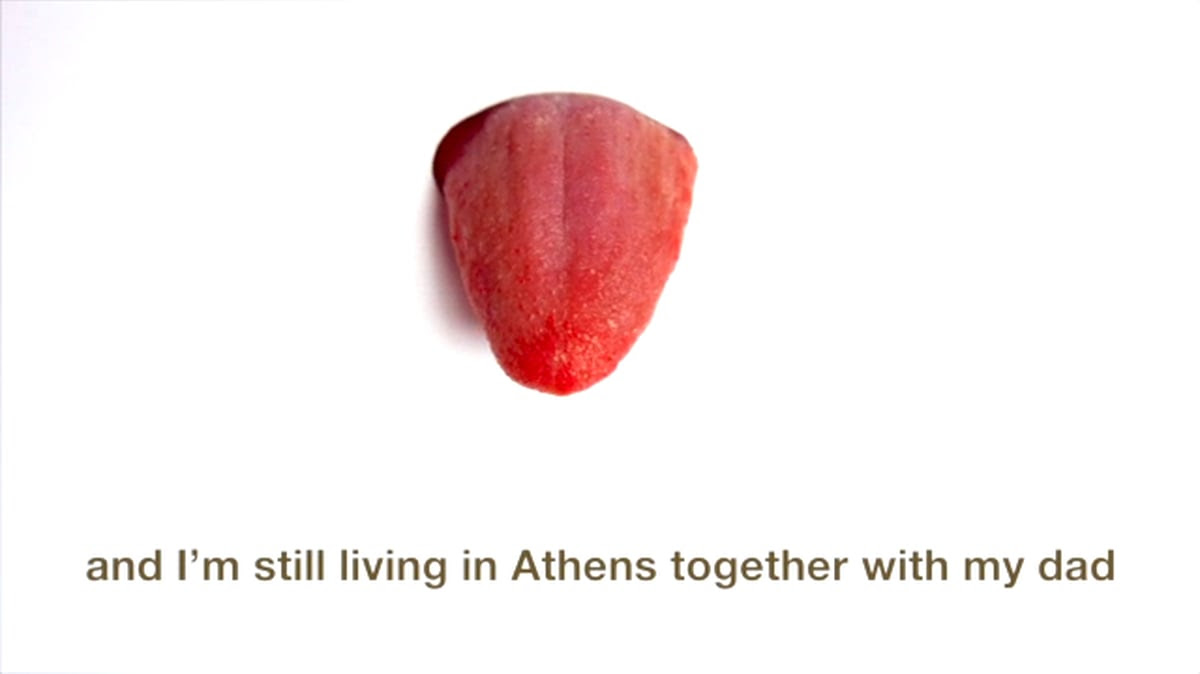 --- Tunge læser Philomela --- (Tongue reads Philomela)
In the performance piece "Tongue reads Philomela" Louise Vind Nielsen tells the story of Philomela through her own tongue. Inspired by Ovids writings on Philomela, a young princess of Athens, whose tongue is cut-off by her brother-in-law Tereus after he rapes her. Together with her sister she takes revenge by decapitating the son of Tereus. The story has been said to be the beginning of a tradition in western culture of censoring the voices of women.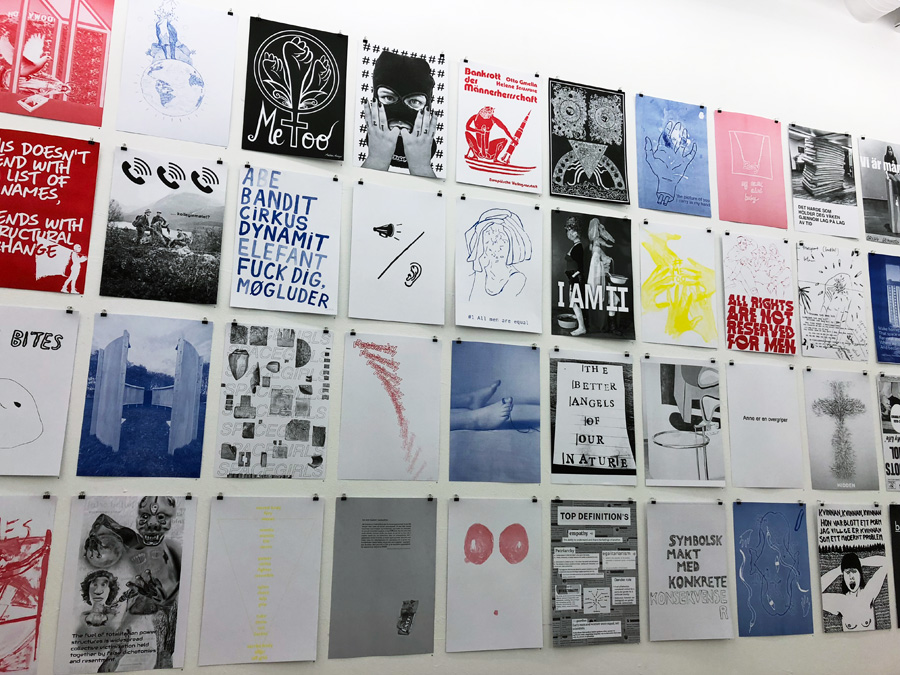 ---A står for ABE, B står for BANDIT --- (A is for Ape, B is for Bandit ... F is for Fuck you, you stupid slut) ---

Was shown at the poster exhibition of The Academy of Fine Arts in Oslo "Between the Lines" in which hundreds of artists react to #metoo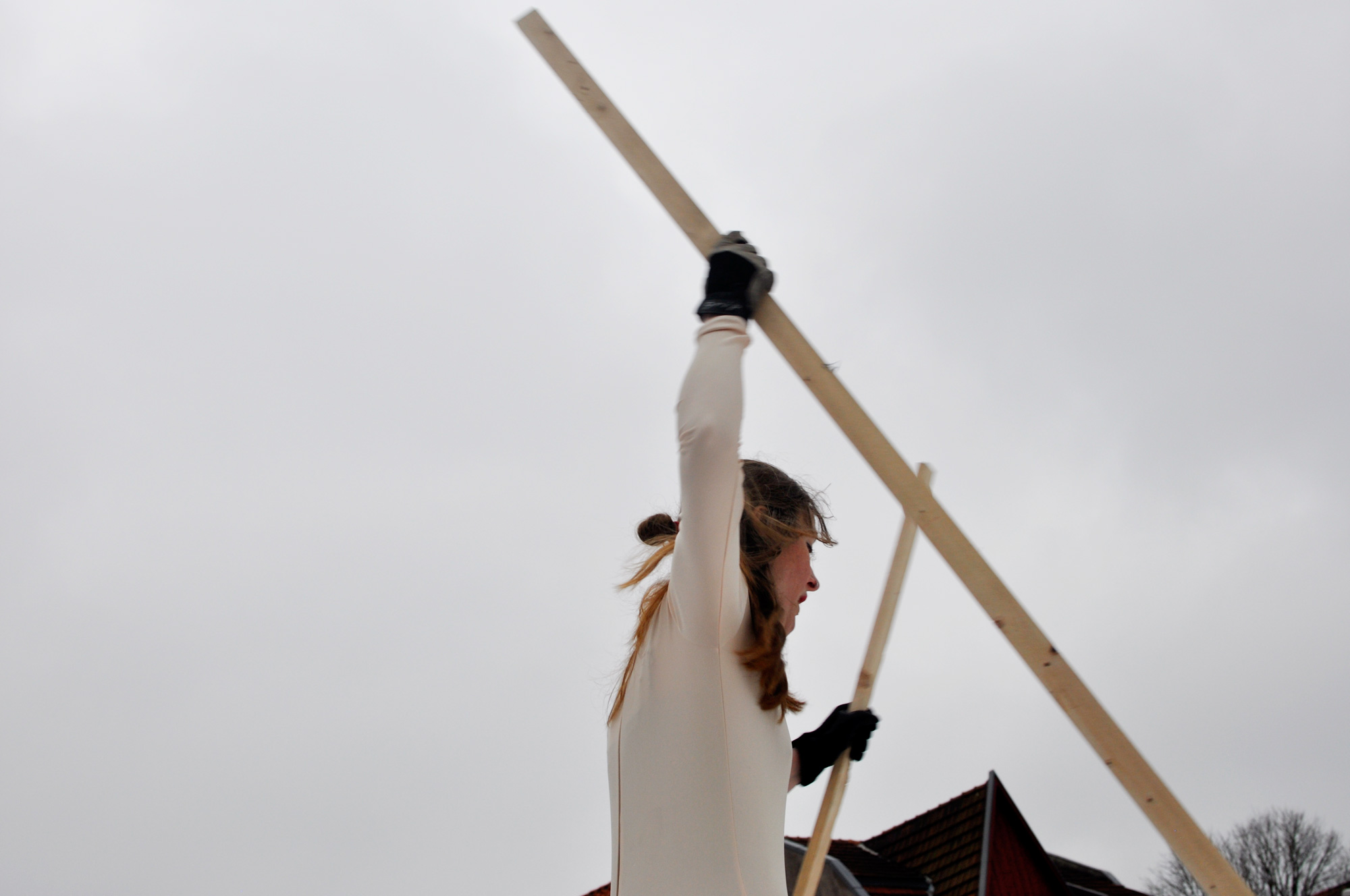 Pic: Cecilie Beck, Sound Vision Lab, https://www.soundvisionlab.com/

---Ej, pas lige på (Oh, watch out) ---

In "Ej, pas lige på" Louise Vind Nielsen performs on an ice rink in a middle sized town of Denmark among families and children skating on the ice. Through the loudspeakers of the rink you hear a voice repeating: "Ej, pas lige på at du ikke falder. Pas på! Pas at du ikke falder. Pas på." (Oh, watch out that you don't fall. Watch out! Watch out you don't fall. Watch out.) The one speaker the recording is slightly delayed, so that the sentence is moving further and further apart and out of sync. This creates a sort of "dizzy" feeling, when you are moving on the ice. In her hands Vind Nielsen is holding two wooden stick which are oscillating or shivering. You only sense and hear this if you are quite close. With the sticks she fights her way across the slippery surface. Finally people decide to help her escape this quite unstable state.
"Ej, pas lige på" was shown as a part of the project "Rumfang" by artist and curator Andreas Hald Oxenvad, in which sound and performance artists show their work on ice rinks in Oslo, Norway (Spikasuppe) and Sønderborg, Denmark. Rumfang is supported by Danish Art Council.
Duration: aprox. 13 min.

---A Little Bird told me ---
A short essayistic video piece from Istanbul in the period after the coup-attempt 15th of July 2016. Several small birds claim to know the truth. Inspired by the Kurdish tradition of Dengbej storytelling the voices of the birds are sung. The piece is conceived through a collaboration between Louise Vind Nielsen and Kurdish dancer and musician Arjen Brûsk.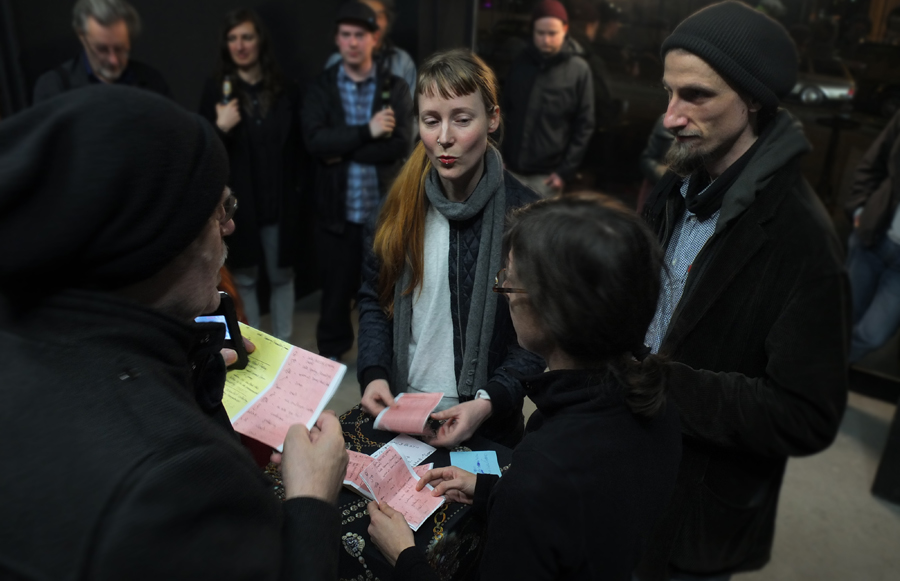 --- Radikal Unsichtbar - Centre for Collective Learning and Radical Listening ---
A series of public workshops, lectures, writings and collective exhibitions focussing on contemporary sound art and the act of listening in relation to community and society. Radikal Unsichtbar is consisting of a series of ACTS throughout 2015-17. Central for every ACT is a workshop conducted by sound artists based in Scandinavia. The collective workshop process is presented to the public among related works by local artists. Radikal Unsichtbar is based in Hamburg, Germany and curated by the sound and performance-artist Louise Vind Nielsen.
So far artist such as Jaleh Negari, Felia Gram-Hanssen, Signe Maria Kjølner Hansen, Ragnhild May, Hanan Benammar, Francis Patrick brady, Gregory Büttner and Ursina Tossi have participated in the project. For more information please visit: unsichtbar.net
--- I am positive you are negative ---
An essay film that captures the limbo in the asylum camps, a floating state in between what the asylum seekers call "positive" (residency permit) and
"negative" (rejection of asylum case). In the film voices of people that seek or have been seeking asylum in Denmark reflect on the feeling of floating and flying, and poses ideas of a freedom of movement.

The film was conceived as a collaboration between Louise Vind Nielsen an Trampoline House in Copenhagen, commissioned by Danish Art Council as a part of tvKUNST presenting works by Katya Sander, Jørgen Michaelsen, Louise Vind Nielsen, Hannah Heilmann, Anders Visti and Kristoffer Ørum on the national TV-channel DR-K. Text by Mathias Kryger on the Film "I am positive you are negative" (In Danish)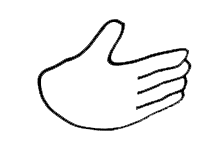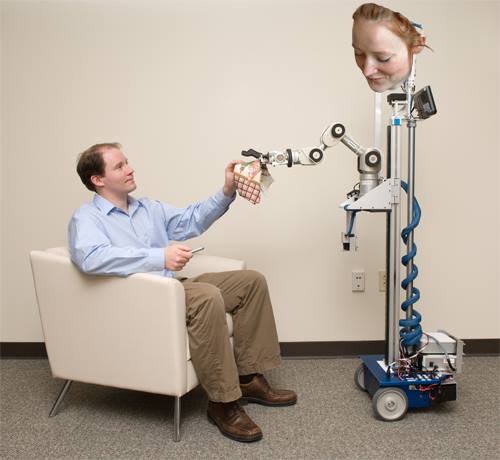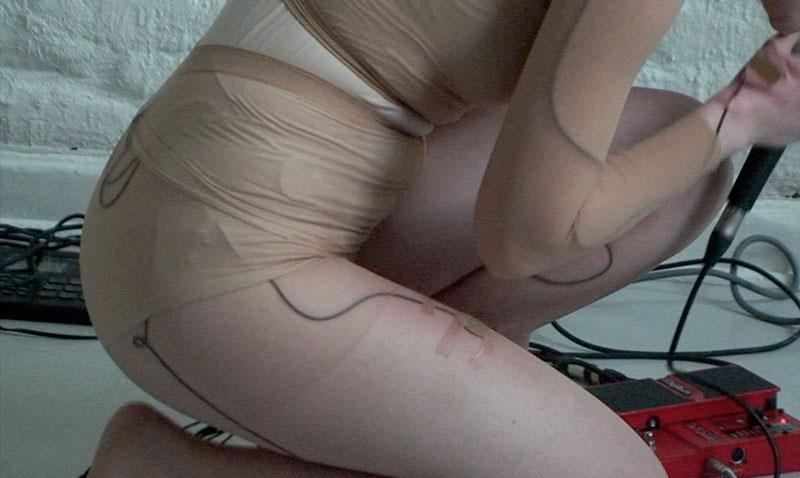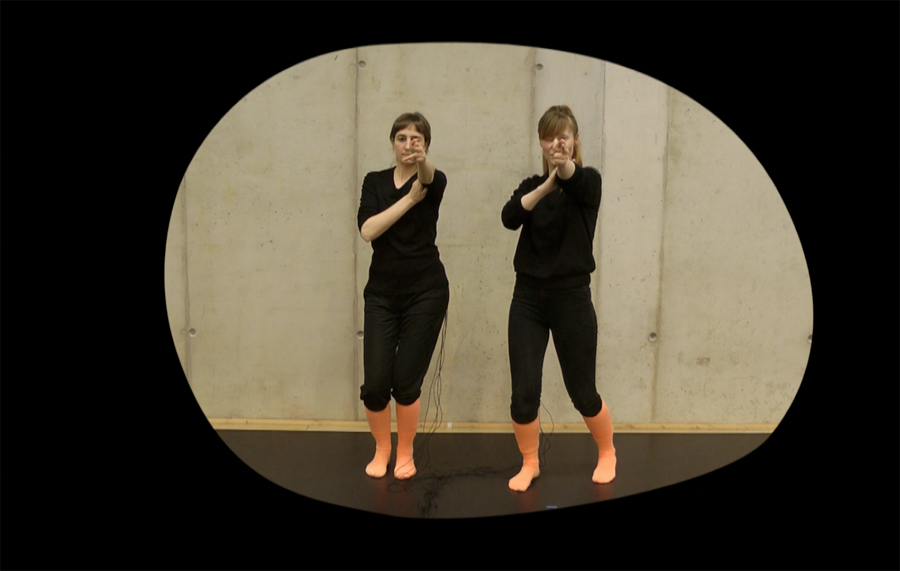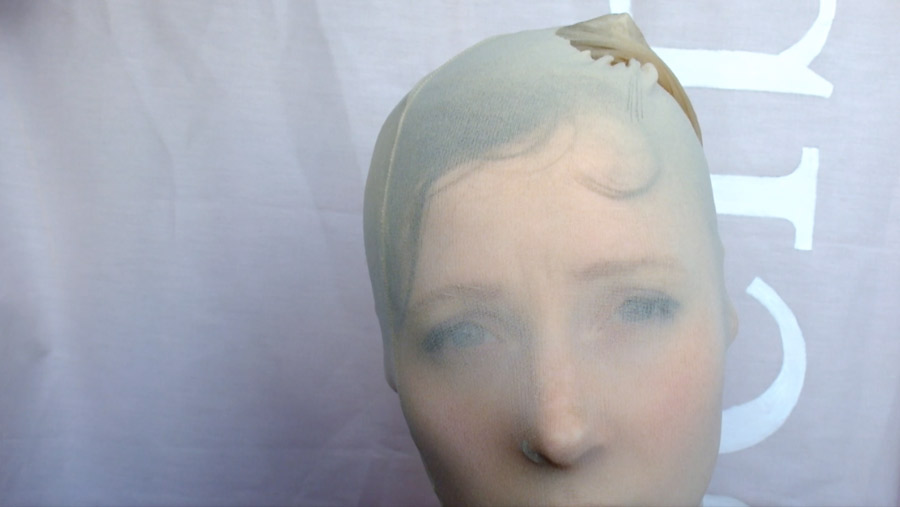 --- Umuligt Instrument ---
50% human, 50% woman, 50% drum machine. Umuligt Instrument transforms the female body into a living electro-acoustical instrument. Umuligt Instrument is a performance. Umuligt Instrument has feelings. Umuligt Instrument is a cyborg - just like you. Please like Umuligt Instrument on Facebook.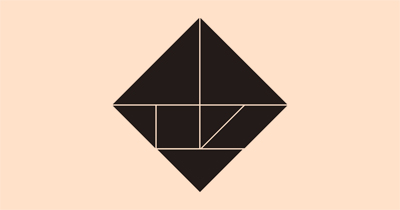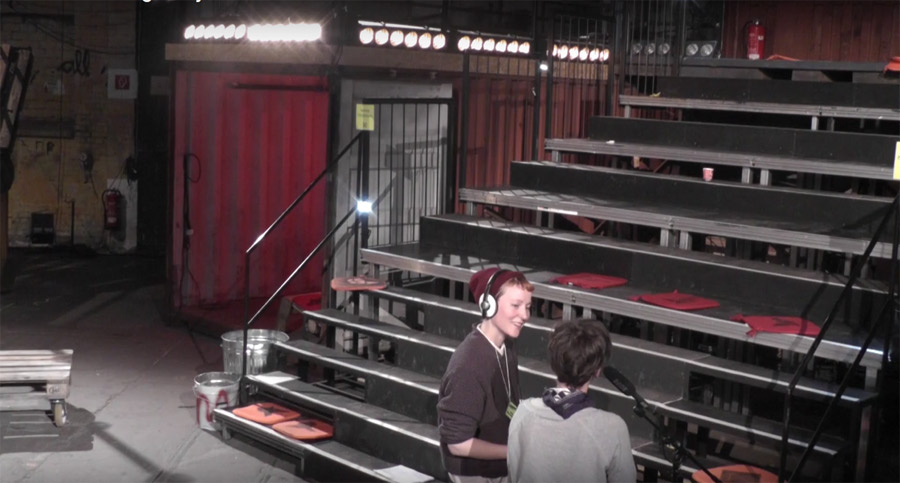 --- The Art of Being Many ---
In autumn 2014 hundreds of artists, activists, researchers and participants from all over Europe and beyond will gather at Kampnagel for an assembly of assemblies. Sharing experiences from real-democracy-movements and artistic experimentation, we want to explore new ways of coming together: collective insights into the materiality, the timing, the agenda, the desires and the catastrophes of being many. In an arena specifically built for the occasion, the assembly will become a laboratory of itself: a collective of friends and strangers, with many voices and bodies - including ghosts and things.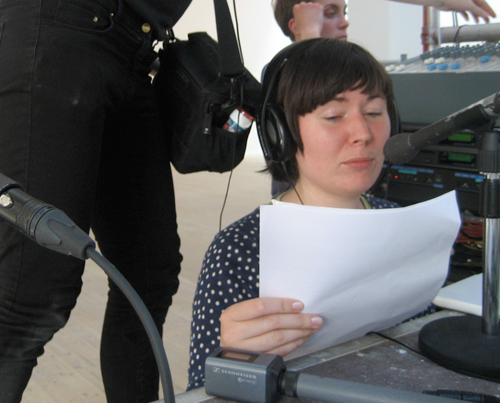 --- THE TEMPORARY RADIO FOR FRESH AIR AND A WORLD WITH LESS WALLS ---
An experimental radio project transmitting live local FM radio for four days in May 2013 from the exhibition space Kunsthal Aarhus in Denmark.
The Temporary Radio formed a platform, from which 18-20 radio activists and artists based in Germany and Denmark experimented with a broad variety of radio programs and formats.
The idea behind the The Temporary Radio was to bring fresh air to utopian ideas by asking the questions: What do we want and what can we do? - an attempt to explore the subversive potential of radio art.

The project was an artistic construction site a place for collective experimentation and research. An attempt to transgress the visible and invisible walls between the fragile, the political, between art and life.
https://kunsten.nu/journal/midlertidig-radio-for-frisk-luft/
https://kunsten.nu/journal/som-at-opbygge-et-sprog/
http://snykradio.dk/nar-kunstnere-sender-radio/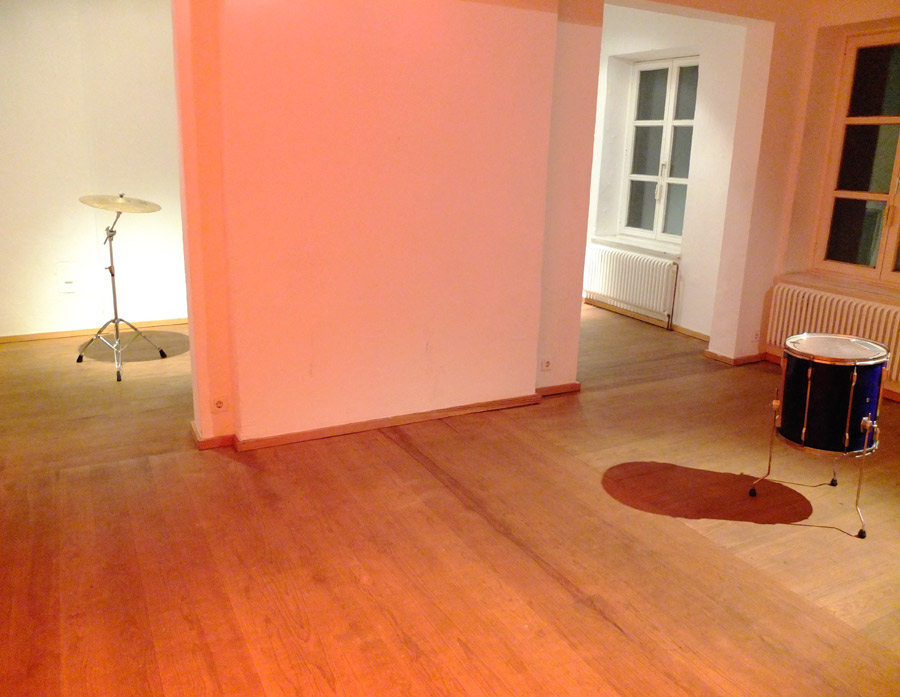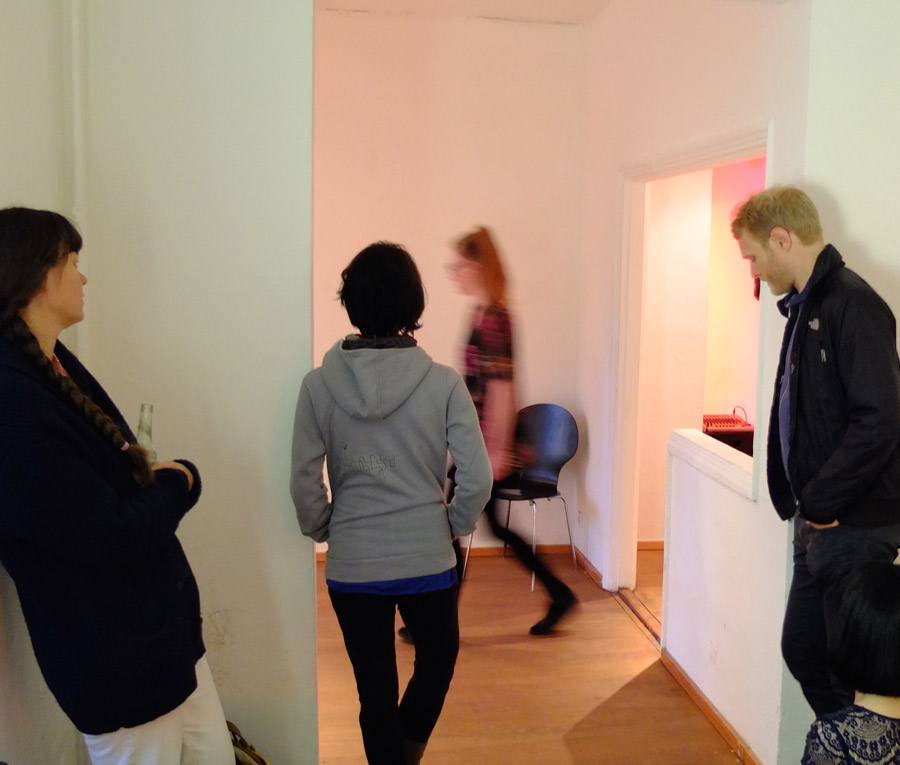 --- Circular Lecture ---
The room of the exhibition space is devided into three parts that are connected. I placed an instrument in each room; a standtom, a hi-hat and a bass with ampliflier. I walked slowly at a steady pace from one room to another forming a circular movement, stroking the instruments as I passed them. The movement formed the composition and the footsteps created the rhythm.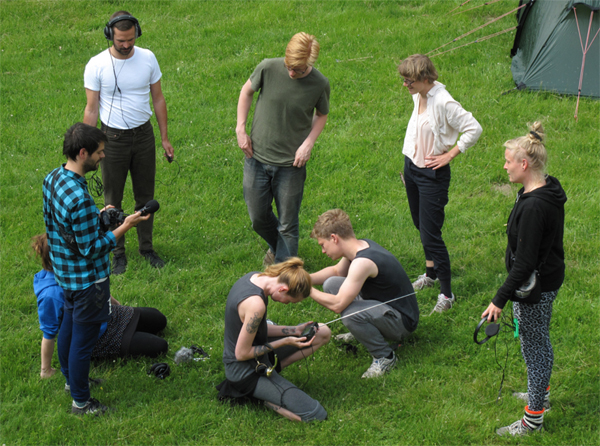 Ljudskolan
--- Spor 1: Radiorepetitioner ---
På workshoppen skabes en række eksperimenterende radioværker med afsæt i begrebet 'repetition' og Lydskolens omgivelser. Centrum for sporet er en hjemmebygget radiosender, der gør det muligt for deltagerne at række ud til den omverden, projekterne tager sit udgangspunkt i.
Repetition. Gentagelse. Rytme. Forudsigelighed. Kedsomhed. Stilstand. Konformitet. Konservatisme. Rastløshed. Klaustrofobi. Gentagelse. Trance. Meditation. Fordybelse. Ro. Koncentration. Gentagelse. Kopiering. Fortolkning. Afvigelser. Oversættelse. Reorganisering. Fortolkning. Udvikling. Evolution. Udvikling. Forandring. Revolution. Forandring. Transformation. Manipulation. Propaganda.Gentagelse. Socialisering. Læring. Kollektivitet. Individ. Socialisering. Forventninger. Udefrakommende påvirkninger. Interne påvirkninger.
Sporet faciliteres af Louise Vind Nielsen
--- This is porn ---
A short experimental erotic film presented as a part of "Scala Kino Kurzfilme" - Halle für Kunst, Lüneburg, Germany (2012)
--- I see a tree ---
A video piece meditating on a rootless state after moving to a foreign country. The film consists of a series of photos depicting treetops captured from beneath. You hear a dialogue between different voices reflecting on the nature of the tree. Some characters find comfort in the trees, some are rather paranoid. The movie was produced by the artist Louise Vind Nielsen shortly after moving to Germany. The film has been exhibited in Frappant, Hamburg, Germany and Machineraum, Spinderihallerne in Vejle, Denmark.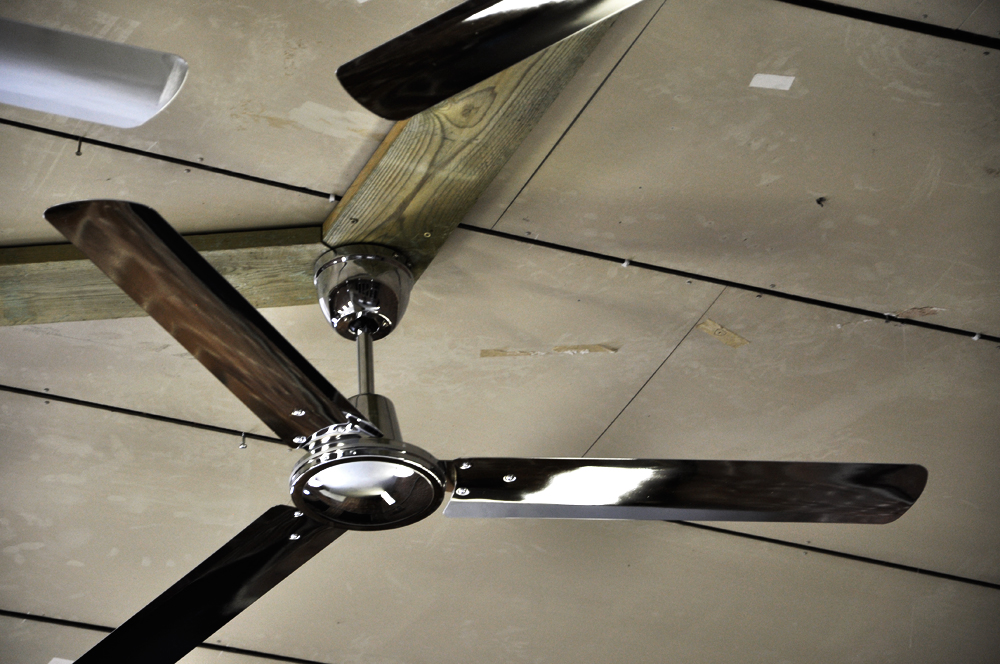 --- Ventilation - Et værk i syv cirkler ---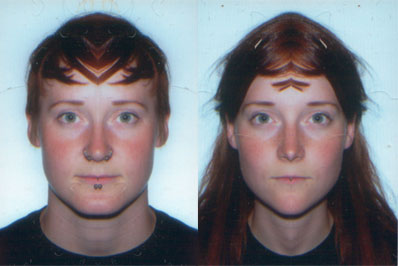 --- Forceret to-deling (Forced division) 2007 ---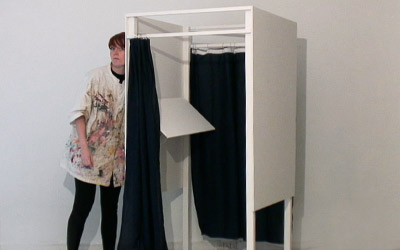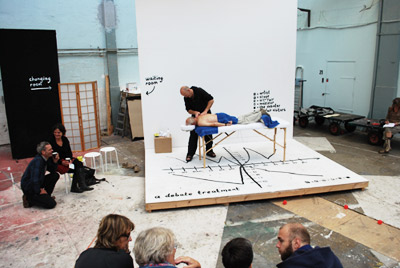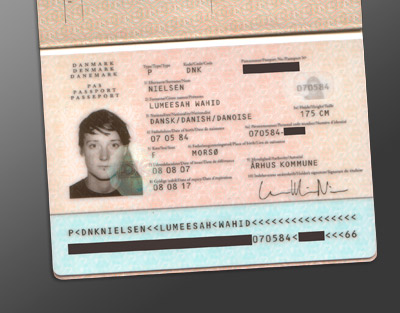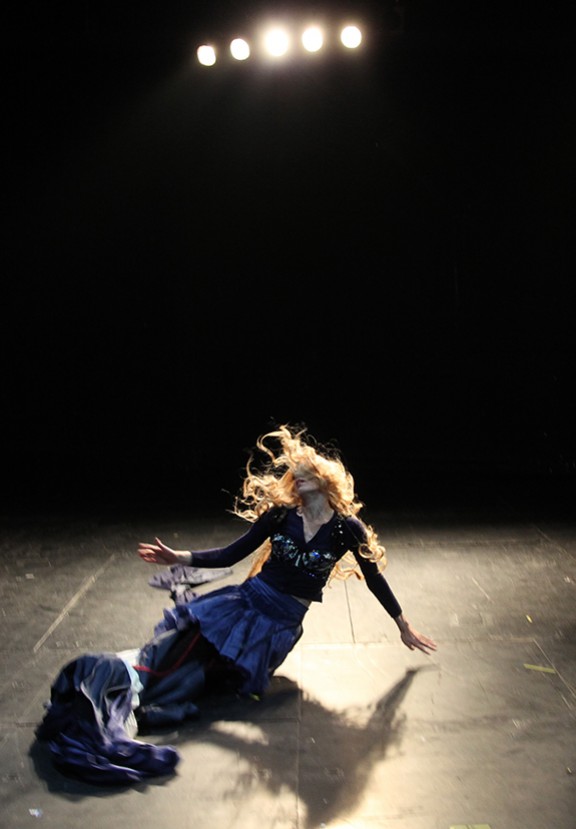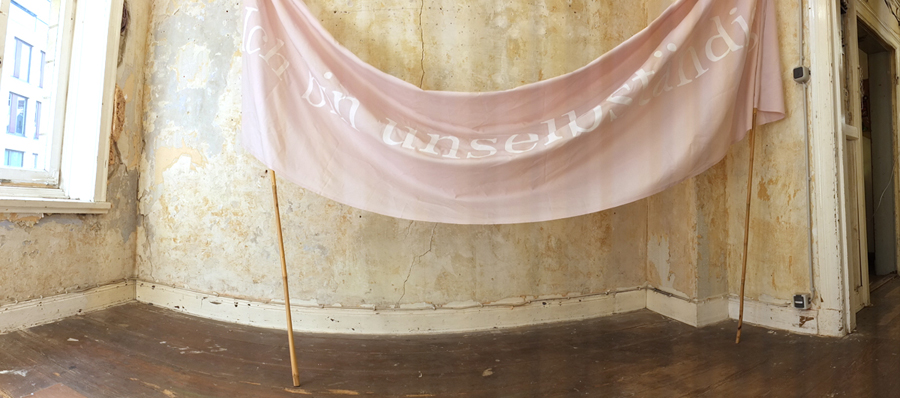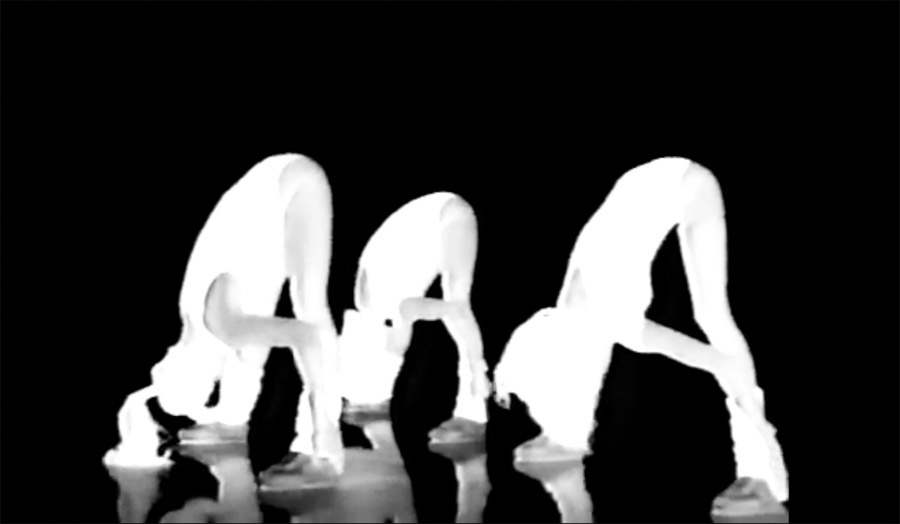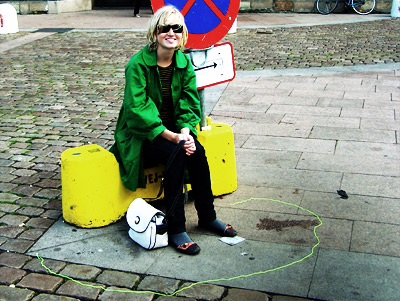 This website is funded by: